Costa Rica 2003 (updated: 2010-03-05)
This is the synopsis for the trip my dad and I took through Costa Rica in November and December, 2003.

Select the images to view large sizes.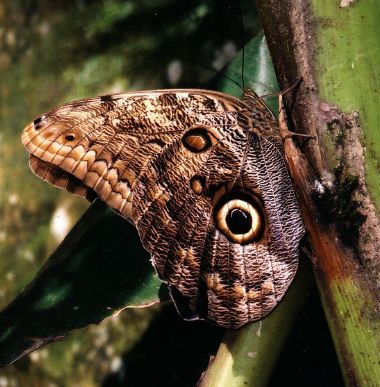 View all the photo scans here
Costa Rican Map with our journey in Red, and nights in Blue: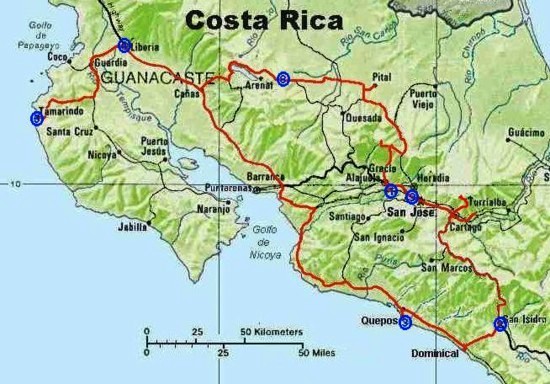 (1) Thur, 27 Nov 2003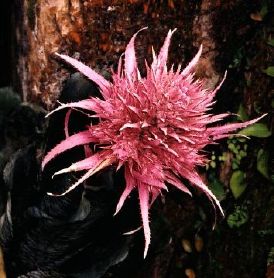 I took too long to get ready in the morning, resultantly we never arrived at the YVR airport until about 55 minutes before (plenty for me

our flight, but we were checked in, and were at the Japan Airlines (JAL 12) gate in probably five minutes. The food and multiple drinks on the planes were great, JAL fed me a seafood rotini, and Mexicana (MX 387) had absolutely delicious tuna patties with cactus leaves and rice. The flight to SJO was half an hour late on a 757-200, but the Ticos on arrival were a pleasure to deal with. I made my first money screw-up at the airport, as I initially took only 5000 Colones from the machine, and then realised afterwards that was only about C $15, and the CIBC (crooks) charge five bucks for each withdrawal. After asking some car rental guys at the airport, they drove us to the Riviera, a neat little B&B in San Antonio de Belén near SJO for USD $64 a night.
(2) Fri, 28 Nov 2003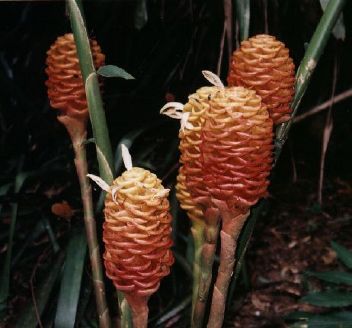 After a shower, and a crap breakfast, I had the receptionist call around for a rental car, and I finally got a Dollar Tercel for USD $170+insurance=$219 a week. It was not too bad, but at 60 Mm, the car had seen way better days on the suspension and body. We got onto the freeway to San José, and then drove through downtown to the east side, where I got turned around twice, the second time with help, and then a third time (with help) in Curridabat, which seemed to be a mess, as the toll road begins and ends there off some tiny streets. I think I have been lost there twice before.

After driving past Paraiso about 10 km, I suspected and found out we had passed Jardin Lankester, so we backtracked and found it at about 11:30. We spent several hours in the gardens looking at all the different flowers and butterflies. Their brochure stated that they had 7000 orchids with 1000 different species, but I think they were bullshitting, as I could only count about 978 species, even after I recounted them all! I did take about 16 photos.
After we exited the gardens, we drove back through Cartago, and took the Carretera Interamericana (2) south to San Isidro del General. Does that road ever climb! We finally mounted the 3400 m summit in the driving rain, but was the flora ever neat up there, nothing like I had ever seen before, save perhaps for the mountains on Kauai, with all the large and weird, high altitude and moisture plants.
After descending about 2500 metres, we came into San Isidro, a 100 km drive from Cartago, which had taken about 2.5 hours. The road was absolute crap, with abundant deep and hard potholes, and many slides and washouts. At the summit, it was raining so hard, I could barely see. We checked into the San Isidro Hotel which was clean and simple for 8000 Colones, or about $C24, and had supper that was c=orrespondingly economical. Right in the hotel was an Internet cafe, which cost only 500 Colones an hour, which was sure a big change from past experiences.
(3) Sat, 29 Nov 2003
In the morning, I looked out the window at the continuing rain and the wet terrain, and I saw a neat animal, somewhat like a large yellow coloured squirrel that was eating stuff from the tree tops, and jumping around the branches. We set off for Dominical which was like a 35 km steep mother drive away, which took an hour. The beach was more or less deserted, but very nice, and it was even semi-sunny out. I took a photo of the main street, as I suspect in ten years it will be unrecognisable.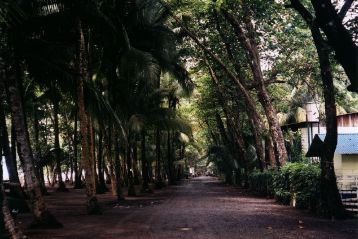 After Dominical, we got on the rough gravel road. It sure wasn't the best I had ever been on, but my dad thought it was his worst ever, I believe the road to Puerto Viejo on the east coast was the bumpiest I have ever ridden. After an hour or so, we drove into Quepos, which still was a somewhat scummy place, but we had lunch there. By then, it had started to rain again, so by the time we drove the few kilometres down the road to Manuel Antonio to look for a hotel, it was just pissing down. We finally got a tidy hotel for USD $24, and that included breakfast, so that wasn't too bad. For supper, we went a bit down the road to a restaurant, MarLuna, recommended by the hotel proprietess, and was it ever good. I had an atun fillet that was as big, rare, and tasty as I had ever eaten. Not only was it by far the best meal that I ever had in Costa Rica, but it sure was a top ten overall.
(4) Sun, 30 Nov 2003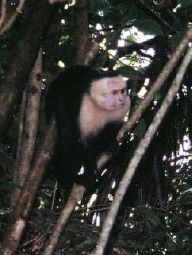 At least the incessant rain had stopped. I was (barely) able to extract the car from the tightest place I ever, and we drove down to la playa. After I parked twice, we walked a short bit, then took a little boat, pushed by the swimming boatman, across the bay, and entered Manuel Antonio National Park. It sure wasn't as hot as the time I was there in 93[?], but that was rather welcome as my dad would have cooked.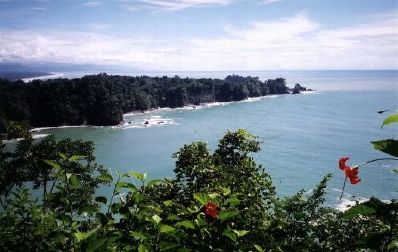 After we went over by Manuel Antonio beach, where a raccoon was eating from the garbage, we then walked around the wet jungle peninsula, where we encountered an iguana. I took a few photos, then we continued on up around the jungle trail. Upon the decent, we came across a big crowd, and they were all watching some white faced monkeys playing in the trees. Continuing, we walked up the road, and so sure enough, we soon saw a sloth on a tree canopy. Further on, we saw several other sloths, and then came across a small deer that was exceptionally tame, so I took some very close photos. After that, my dad exited the park the back way, and I walked back and took the viewpoint trail, where I saw a coatamundi which I photographed. Returning, I stopped on the beautiful Play Espadilla Sur, and there was a BIG iguana sitting right there, so its photos could be taken as close as possible!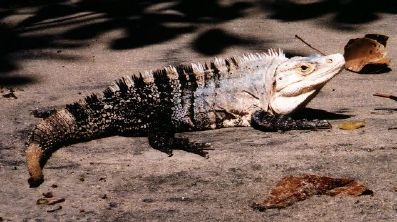 We then started driving north, and I was very pleasantly surprised to see the road from Quepos to Jaco was all brand new, and smooth as a table. It used to be a gravel road from hell! Just after it started raining hard again, we drove through Jaco Beach. After Jaco, we headed north some more, and after we traversed the bridge over the Rio Tarcoles I thought had crocodiles under it, we stopped on the other side, and this was where I screwed up! We got out of the car, and when I went to leave the trunk, I couldn't find the car keys? I was pretty sure that I had just locked the driver's door with them, but they were nowhere to be found. Anyway, to make a long story short, after considerable searching, and using a coat hanger to open the car, my dad found the keys still in the trunk's lock. Did I feel stupid! And to top it off, as the lights were left on, the car wouldn't start, so we had to get it jump started. I finally did see and photograph the BIG crocodiles, though, extremely impressive!!!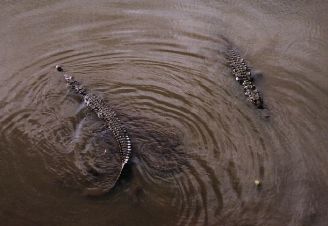 Needless to say, we were somewhat behind schedule, as I wanted to make it to Tamarindo, but the road was busy and crappy, so I had to drive the last hour in the dark just to get to Liberia. We found a half decent place on the highway that had seen way better days.
(5) Mon, 01 Dec 2003
After getting bitten at dinner the night before, I was full of bites, and I was not sure whether they came from the furry little pussy or mosquitoes. We got up and headed out to Tamarindo. The road was under construction for a ways, as they were totally rebuilding it. I don't think it really needed work, but it was in a tourist area, so I guess that was what counted. One neat occurrence, was a little while later we later were behind a bus, and when it stopped, I drove around it, and over top a tortuga. However, the bus driver had only stopped to pick up the tortuga, and he carried it into the ditch. By the time were were on the Tamarindo road, it was the real shits, with many deep and hard potholes. A highlight was my dad saw his first coatamundi.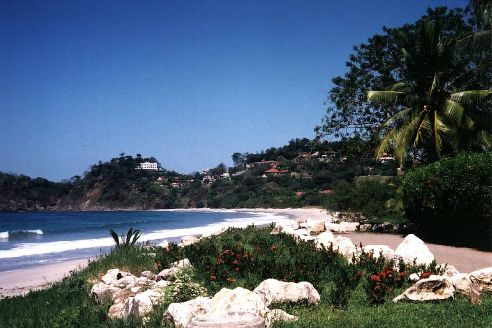 We got into Tamarindo at about 10:30, so I looked around for a motel a bit, and my dad liked the Villa Amarilla right on the seashore. It was okay, but it sure not fancy. The bar and restaurant were really neat, though, like a garden place. I think they made their money off the restaurant and bar though, as we sure spent some dinero there. The beach didn't have a lot of wide dry sand like Puerto, so the places to lay were restricted. For supper, I had a delicious roasted quarter chicken at the hotel restaurant.
I was able to plug my computer in just across the street which had DHCP on ADSL, and get all my messages. On my WWW site, I saw that the place I was in before was the place across and down the street a bit, the Tropicana, and it was USD $40 a night, where it was only $20 in 97.
(8) Thu, 04 Dec 2003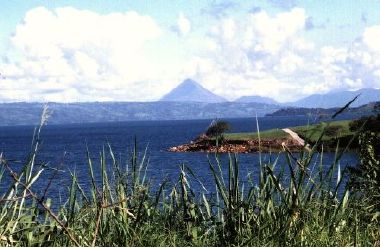 Luckily, I saw that the satellite had cleared up over Costa Rica, so I guess we did the right thing by hanging out on the Guanacaste coast. We first took a detour to Playa Flamingo, as it was maybe the nicest beach around there. After that, we took the road back through Filedelfia and Liberia to Cañas, where we took road up to Laguna de Arenal. At Laguna de Arenal, which is a reservoir, we passed the Blue Bay Motel, where I had stayed before, and maybe we should have stayed there again.

Arenal Volcano was clearly visible in the distance, so the weather luckily had cleared up. After driving on really crappy road, we went through Arenal, the town, and onto a road where I had turned around in 97, as it was too rough. This time however, it had been semi-paved, so we were able to continue on without too much trouble. Max wanted to stop at a jardin, so we did, and we saw some gigantic butterflies that had a wild blue topside, but which I could never photograph. I should just give up on butterflies.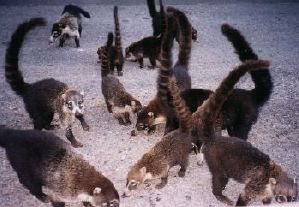 After the jardin, we drove on some more, where I was able to take volcano photos, and some neat tall reeds, which I guess were sugarcane. Five minutes more, and we came to a stop, as some coatamundi were all over the road looking for handouts. Max fed them some wafers, and I was able to take a photo of all the coatamundi congregating around the car. After that, we passed over the Arenal earth dam, and down the road a short ways to the turn-off for the 9 Km drive to Arenal Lodge. My dad could only handle about a klik on the back road, when we had to turn around and terminate the day's plan. I was worried, as it was already 16:45, and it would be dark in 45 minutes. He thought the poor road did not indicate quality accommodations ahead.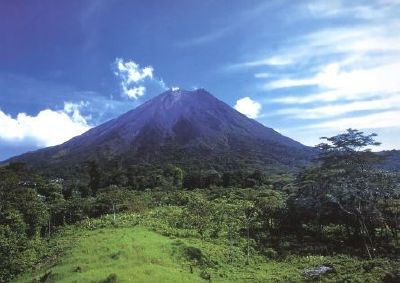 I thought we should go on to Fortuna, so he agreed, and there were a load of motels and lodgings along the route, so that was a fortunate [NPI] guess. We also passed the Taliban (Tabacon) hot springs, but I had read they were USD $17 each just to bathe, so I didn't even slow down. After a bit, we came into La Fortuna, so we filled up with gas, and got the first hotel downtown Hotel Tropical() near there, which was actually pretty nice, (new & all stained wood) for USD $35 a night, then we had supper next door in a really well fitted out restaurant, with fancy tile floors and wrought iron tienda, along with stained mahogany tables.
(9) Fri, 05 Dec 2003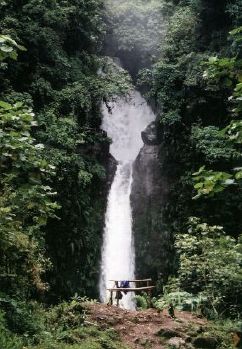 The road east from Fortuna towards Poas Volcano was surprisingly good, with all all new, mostly straight, pavement for quite a distance. The countryside was also surprisingly pleasant, with mostly prosperous farms and haciendas along the route. I remarked to my dad that some rich guys, or the president, must live in the vicinity, as it was so nice. After about an hour, I took one wrong turn, and I ended up in a small town called Pital, so we had to backtrack 11 km to the junction, where we on were on our way again to Aguas Zarcas. On the way to San Miguel, where we had to turn up the mountain, we crossed several large and picturesque rivers, and they even looked rather clean.

The steep, narrow and winding road up the Poas jungle from San Miguel was extremely picturesque, and my dad was really amazed by all the orchids growing everywhere, even on fence posts. We saw one neat waterfall (Sarapiqui) on the rio La Paz, where you could walk right under it, but we didn't.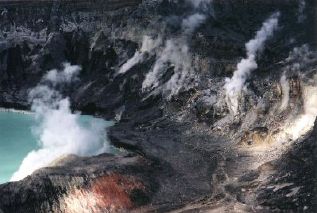 After we came near the summit, we had to exit right onto another road up to the Poas crater. This road was surprisingly more 'wide' and 'level', than from looking at the map, as I had expected a really steep mother road. Even though I had been there before, but seeing orchids growing on the side of the road was even impressive for me! After paying the admission (USD $7 each) and parking, we got out and walked up the 600 m to the crater viewpoint at 2567m. We were exceedingly fortunate, as the sky momentarily cleared, and the sun shone on everything, so I was able to liberally photograph the crater, with its turquoise lake and sulphourous fumeroles. We then took a short hike on the concrete sidewalk to see Botos Lake, which was in an old crater to the east. Driving back down the mountain, we were more or less fogged in the whole way, but we stopped to see some coffee plants, where Max bought some more coffee.

A road system in the Valle Central doesn't exist, so it was almost impossible to figure out where to go. We were looking for some hotels that I was given that morning. By the time we came to near Alajuela, I stopped and asked for directions from a sawed-off shotgun armed guard, and then we went a little further into the town, where traffic was bad (I thought until later) to a gas station where I got some more directions to the airport, and the nice guy said to follow him. We passed the airport, and I took the first right turn into the same town, Belén, as we were the first night. I only got lost about five times, but we did see one place my dad didn't like, and then we were off back to the highway, as I don't think my dad wanted to stay where we had been again and I didn't really either, as the restaurant sucked! So, we ended up in massive traffic jams to get to the Best Western Hotel Irazú, at USD $65 +T for the last three nights. The restaurant was a Dennys, which left a lot to be desired, but the place was not too bad a deal, and conveniently located. Maybe the best thing for me, was that they had free high speed Internet with DHCP for my laptop.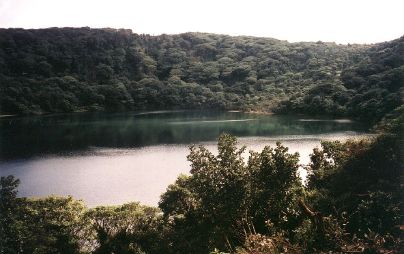 (10) Sat, 06 Dec 2003
I went up to Volcan Irazú, however, it was not such a successful venture. My dad decided not to go, as he was worried about the traffic which was probably a good move, as after a short bit, I was snarled up in traffic for quite a long time, and then I missed the proper exit, and the next one I took, I ended up circumnavigating the whole town Curridabat, and eventually ended up back on the ring road, before the exit I originally wanted to take, so I took the correct one, and away I was. I finally figured out the roads, as you have to take the Zapote exit, and then turn right to go by the church, and then left at the end to the street where all the traffic was headed for the freeway. Essentially, the whole thing was non-intuitive.
The weather didn't appear too promising, but it was supposed to be worse the next day, and I thought there might be a chance for some clear breaks. As I ascended the volcano, however, the soup progressively got worse, and at the top (3300m) it was socked right in and quite wet at 11 Celsius. I got out anyway, walked around the rim, and got soaked. I thought I saw the crater's lake, but it was difficult to see.
I descended the mountain, and took the long way through Cartago's centre, which was quite extensive and busy, and then I even found the most direct way back though Curridabat, which was quite a change! I did luck out when I returned, as I found a small mall right next door with a supermercado, and five restaurants, all which had to be MUCH better than Dennys. There was a seafood place, a Chinese, a sushi, an Italian Steakhouse, and some other joint in there. The first night, we ate next door at the "Italian Job", no, it was "la Casa de mi Abuela", but it was very good, a load better then the Dennys. What a bonus for the neighbourhood!!!
(11) Sun, 07 Dec 2003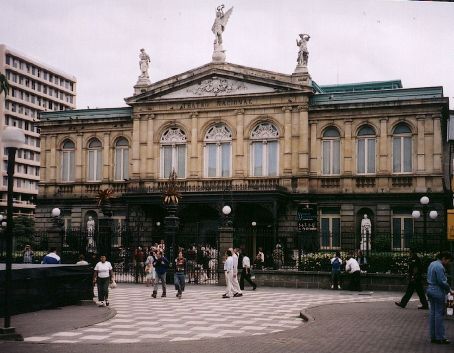 The last day, I took a bus downtown, which terminated beside an old abandoned church on Avenida 2, adjacent to Parque Merced filled with people and parishioners singing along with some pastor. I then walked towards downtown, past Parque Central, the Teatro, and then past the Museo de Oro, and up the pedestrian mall on Avenida Central. I was somewhat familiar with the area, as I spent a week in San José in 95[?]. A few more blocks up the Avenida, I saw the dilapidated Plaza Democracia, where I had to take a photo, as "Asino Bush" was written on the walls. I then returned back along the busy pedestrian mall, around the old church, and took a bus back to the hotel. The blocks were really small in San José, and the numbering spaced out, so I may have walked over 70 blocks in under an hour.

The second night, we ate a SUPERB meal! At the Italian restaurant, the chef made us special home-made spinach pasta stuffed with Porcini mushrooms. We also had Bruschetta and Prosciutto appetisers, all imported from Italy, WoW! I sure have to state that Costa Rican cuisine has come a long way since the first time I visited. The prices were not that exorbitant either, as the deluxe entrees were about 4000 Colones.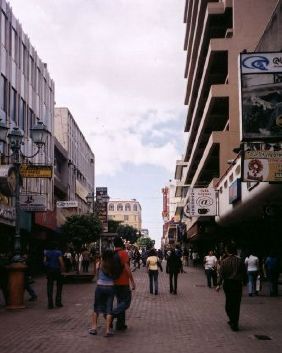 (12) Mon, 08 Dec 2003
After the 4:45 wake-up call, we made the 5:30 bus to the airport, cleaned out my Colones paying the USD $26 departure tax, and then even left a bit early on the 757 (MX 386) flight back to MEX, where we got in at about 10:20.
After the clouds obscured Costa Rica, the clear trip over Centro America was spectacular, as we saw so many volcanos, and I took about 11 photos. Several volcanos were smoking considerably; El Salvador may have had the neatest ones. Additionally, I did see one real promising beach town, right on El Salvador's southern tip.
After landing at MEX, we went through the special customs for Centro America, where they only had about 20 special police checking it out, and I am sure the dogs had sniffed all the luggage too! After checking my dad in at the Hotel Aeropuerto, we walked back to the airport and I got on the DC-9 to Puerto, where I was able to get some neat shots of Roca Blanca and Boca de Barra de Colotepec before landing.