---
[to Baden's Home Page]
My October 1998 Thailand Trip
YVR | Seattle | Seoul | Bangkok | Ko Samui | Phuket | Ko Phi Phi | Phuket | Seoul | Seattle
24 B = 1 C$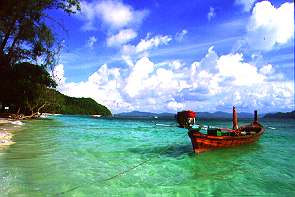 Unbelievable, I was able to leave my apartment at about 6:45 to make my 8:00 flight to Seattle. That was probably the first time in 63 years that I have had more than 23 minutes to spare for a morning flight. I arrived at the airport at about 7:05, which left me plenty of time to check in and go through U.S. customs pre-clearance. At about 7:10, I started through U.S. immigration and customs. I was at the final check, when the officer there wrote "BOOM" on my customs slip, and instructed me to go over to secondary.
I have to first state that until my Aeroplan flight last year, I took a five year hiatus from visiting the USA, as I had received so much grief. It seems that well over 50% of my USA border crossings have resulted in extensive questioning and searches. However, last year, I went straight through YVR, and on the return through San Francisco, the officer in secondary was very polite, and only cursorily examined my bag.
So, when the officer in YVR started to pull everything out, and ask all kinds of stupid questions, I did not appreciate it. I then figured that the "BOOM" just meant to blow everything apart and thoroughly piss me off. After a RCMP officer checked my ID all out, and the customs officer searched my one handbag for 40 minutes, and also checked my ID all out, she left everything for me to put back together, and then I just made my flight. I should say that for most the search, I just turned my back to her, and watched the room, as I knew that I had three other flights that I could make to Seattle. I figure that their motive was to try to 'sweat' you out, but all it does was prove how big assholes that U.S. Customs really are. She even told me that I should go to Hawaii as it was just as cheap as Thailand. I think that they must be sniffing confiscated glue.
So when I got into Seattle, I had some time to spare, and after I checked in (the first one) three hours early, I bought a Wall Street Journal, and wandered over to a coffee shop and lounge to read it. Since my 13:00 Asiana flight to Seoul boarded at 12:30 at gate S12, and I had already seen the gate sign, I wandered over at 12:25 to where the gate was, but there were just stairs down to security and a subway over to another Terminal. Since I did not expect this, I felt a little rushed, so I went through security and got on the subway, which took a few minutes, and then up the stairs and escalator to the terminal, and looked for gate S12. There was no-one there, however, a sign was on the desk, stating that if you were on the Asiana flight to Seoul, to go back to the main Asiana counter in the main terminal. I thought that maybe the flight was delayed or had changed gates, so I rushed back down the stairs, back around on the subway, and up to the main counter, where at 12:45, the Asiana representative said that they were boarding, and that they were probably all behind the counter at the ramp. So I rushed back down the stairs, through security, where I once again showed them my boarding pass, boarded the subway, departed the subway, ran up the stairs to S12, past the counter to where yes, they were boarding at the ramp, and I had not seen them before. At this juncture, it was 12:55, and I was just going to make the flight. So when I reached in my pocket for my boarding passes and ticket, and they were not there, I kind of freaked. I searched through everything else wondering where I had put them, and I still could not find them My passport, which was with them, was still in my pocket, so I surmised that they had fallen out between the security check point, and the gate. As the Asiana staff recognised me from checking in, they looked at my passport, and issued me new boarding passes through to Bangkok, and said that if they found my ticket they would forward it onto BKK.

The 747-400 flight to Seoul took a long time, and it seemed even longer. When I had checked in, I had first seat preference, so I obtained a window seat at the front. When I got onto the plane, an old lady was sitting in my seat, so I had a middle seat in the front row, between her and her husband. Further, a hard learned lesson was that the front was next to the bulkhead where they attach the bassinets for all the screaming kids. I should mention that I hate screaming kids. Anyway, I was lucky that I only slept about one and a half hours the night before, so my mind was numb. (That may also have something to do with the day's previous experiences

After, I got off the 12:15 hour flight to Seoul, I had to wait two hours before the connecting flight to Bangkok. Seoul airport was the busiest that I have ever seen, and when we landed, there were 14 747-400s just at the one international terminal. Altogether, I imagine that there were over 40 747s at the airport, along with many other smaller planes. Besides the gates, they parked the planes in three rows out on the tarmac, so most the flights boarded and disembarked on the ground through busses. The Koreans were very efficient, as the operation to unload or load a 747 only took about 10 minutes. When I arrived at the prescribed gate 1/2 hour prior to board the 767 flight to BKK, there were still about 400 people in a line to board a KAL 747. But they were all gone in about 15 minutes onto their busses, so we were then able to line up and get our busses. Our plane still departed on time, as they wasted no time at all. The airport was just like a bus station with loitering not very visible, as everything was moving.

We got into BKK at about 22:30, as they were 2 hours behind Korea. (+7 UT). After phoning Juan in his hotel, I and another Canuck from Kelowna, who I had met on the plane, went on the local bus to find a place to stay. He had been there seven times before, so I thought (wrongly) that he could help. The bus broke down, so we got on another one, and continued down to the old part. After wandering around the streets for awhile looking for Samsen Road, and then sitting down and drinking a beer, at about 2:00, I turned around and the Canuck had disappeared. I then saw a German crossing the street, and after I asked him about hotels, he said his hotel had space, so I went into a little joint for 200 B for the night. My room was small, and there was a central bathroom with an Asian toilet that I did not use.

Bangkok (Krungthep) was a large and polluted city which was totally unorganised, and due to the economic circumstances, left with huge infrastructure megaprojects all mothballed. The old city maintains a third world seedy charm, which I like. The amazing thing in Thailand, and especially in Bangkok, were all the motorcycles. At each traffic light, they bunch up, so that there may be hundreds all doing a grand prix start at the green light. The bikes were all less than 125cc due to regulations, but they still pollute. It was very difficult to travel in Bangkok, as the traffic was horrendous, the streets were all over the place, and there were few addresses, so nobody knows where things were, and everything was relative to landmarks. They were building a Skytrain (Canadian) and a bunch of elevated expressways to help the rich get around. In the future, I will probably try to avoid Bangkok, as there were local airports which were much more convenient.
The next day (Wednesday), I spent with Juan and Sarah, my San Diego friends, and their friend Kitty, and then we boarded the 18:30 train travelling down south to Surat Thani, By then, I was really wiped, as I only had about 6 hours sleep since Saturday night, so I spent the night sleeping on an upper berth in the train until dawn. It was a thrill to spend a few hours in the morning watching the tropical countryside, as we saw many different things, such as rice cultivation, water buffalos, and beautiful flora. In general, since it was the rainy season (more to come) all the ditches, rivers and fields were flooded. When I had originally considered the trip, I knew that it would be the rainy season, so I had expected some precipitation. We departed the train at about 8:00, and then instead of getting on the intended Phuket bus, the ladies had decided that we were going to Ko (island) Samui.

It appeared from discussion, and from the maps, that the bus transfer and ferry ride to Ko Samui would only be short, but it ended up taking almost all day. We had to stop at a bus station for a few hours, then take a two hour bus trip to a ferry, and then another two hour ferry ride. The marine regulations and equipment in Thailand were not exactly up to B.C. Ferry's standards, and I think treading water would be a desirable safety asset. This was verified when two weeks later a ferry sunk on the way to Ko Samui with 32 fatalities. We finally arrived on Samui, and then rode in a pickup truck box to Chaweng Beach, seeing elephants on the way over. It was sure nice having Sarah organising everything, as she organised the

truck, and the driver organised the hotel on his cell phone, so we obtained a nice place, Chaweng Gardens, right on the beach, with cabins on stilts, for about 400 B per day. When I saw a bunch of topless women on the beach, I figured we had an acceptable place.

Chaweng was a real happening little tourist town, and most activity only starts about noon, and ends at dawn. The problem was that the main street was all dug up for reconstruction and *really* muddy. It was quite an exercise to walk around and see things. The beach was quite nice, and fairly long. There was a reef right in front, so actually it was difficult to swim much. We spent four days there, then took off Monday morning at 8:15 to go over to Phi Phi island, which was in the Indian Ocean's Andaman Sea, near Phuket.

The trip was longer than we thought it was going to be, and after getting the 10:00 ferry, we had to again take a long bus ride up to Surat Thani, and then travel around there finding out about our bus tickets to Phuket. We finally ended up back at the same bus station where we were several days earlier, and they exchanged our 17:00 bus tickets for immediate van tickets to Phuket. So after few minutes, a van came and picked us up, and drove downtown, where they filled the van and started off. It started to rain heavily after we left, and most the way to Phuket. We saw several vehicles in the ditches, and the road was under construction much of the way, as they were constructing a four lane highway. I also saw a neat place where a huge gold Buddha head was right in front of a huge cliff. We travelled over the bridge onto Phuket just as the sun was setting, and we arrived in Phuket in the dark. I should mention that Phuket was a fairly large island [map], and that it was also the name for a big city at the southern tip. A persistent taxi driver first offered me a place with girls, then took us all over to the Travan hotel, which is an older, but nice, hotel. My room was huge and really deluxe with a big tile bathroom, hot and cold water, and fit for a king. Juan and Sarah did not fare so well, as they had a tiny room, but they did get a double bed. We traveled around Phuket a bunch that night and got lost before a policeman showed us the way back to our hotel.

The next morning, the persistent taxi driver was waiting for us outside our hotel, and after some wandering around, and discussion with him, we decided to get ferry tickets to Phi Phi, and go right to the docks. The docks in Phuket were fairly congested, dirty, and many hulks were left rotting all around. We got on our ferry, and then left at about 8:30 for Phi Phi. We had just exited the harbour when we stopped and tried to retrieve a life ring which had fallen off, but they wisely gave up the futile exercise. The chances of having accessible life gear were pretty slim, so one life ring shouldn't have made too much difference in a death toll. As it was, I kept an eye on the one near me, in case I needed it quickly. The trip was about 48 Km, and took about 2 hours, after discharging passengers near Phi Phi Le, which was a neat cliff island near Phi Phi Don, so they could do the tourist thing. [map]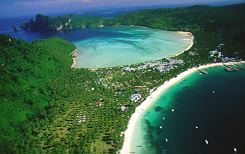 We landed at the main Phi Phi Don dock, and Sarah went to a travel agent to get return tickets for Kitty, and find us rooms. The island was really neat, as there were no vehicles, just walking paths to get around. The main 'street' even has pavement bricks to walk on. There were sewers and water, along with electricity all over, so it was almost a perfect compromise between isolation and convenience. When the travel agent said that there was a nice affordable place on the other side of the island, we thought that there was a long walk ahead. However, after about 100 m, we were at the other side, and a short walk down the beach brought us to Charlie Beach Resort. I got a nice little cabin for about 325 B per day. The place was all self contained, including a restaurant with satellite TV, a pizza and bakery place, and a nice beach front bar with a good sound system. There was not much need to leave, but the town was all real close, (50 m) and it must have 50 restaurants. The food was all excellent, and very tasty. I started off drinking Singha beer, but switched mostly to Chang (elephant) beer as I liked it better and it was cheaper, at about 35 B per bottle. It was actually re-labeled Carlsberg beer, as they own the brewery. Mostly, we ate at a different restaurant every night, and most meals included shrimp. I predominantly ate rice and noodle dishes, which were usually loaded with ginger and garlic.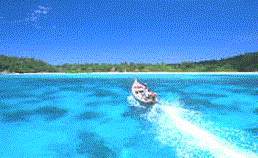 The water in the bay was really clear, and comfortably warm. When the sun heated the water up, it was just like a bath tub. The tidal variation was fairly large, when high, there was almost no beach, when low, the water was out several hundred metres, and real shallow for much further. There was coral all over, and I will wait until I return (April) to go snorkeling. There was a beautiful viewpoint on the hill top, (140 m) which I frequently visited just for the exercise. There were stairs going up and part way had concrete walk. One day, I even took the trail to a beach on the island's other side, but it was fairly hairy, and not really handicap accessible. In general, I did not do too much for a few weeks, except relax. For excitement, I measured my pulse one night, and it was 52. It seemed to rain a lot and one day was completely rained out. Most the time, we could lay on the beach for awhile, even if it was slightly drizzling. Sometimes it rained so hard, the water would be ankle deep walking on the paths. One day, we were walking down the main street, when it started to really pour, without warning, in about two seconds. It was almost a challenge to just duck under the storefront two metres away.

As we originally were going to take the bus to Krabi before we found out that we could take a direct ferry to Phi Phi from Phuket, we decided to one day take a ferry for the day over to Krabi, which is on the mainland. The ferry ride was rather rough, as the seas were heavy, and on the way back it rained a lot. I was amazed at how shallow the harbour entrances were, and in general all the water around southern Thailand seemed very shallow. Krabi was not that interesting, and it really poured for a bit when we were there. I figured that we were rather fortunate to not have made a special bus trip around to there, although apparently there are some nice nearby beaches.

One thing I noticed in Thailand was that the workmanship was very good. The wiring was all aligned perfectly, and the carpentry was all finely done. Unlike the Mexicans, the Thai use all the latest power tools and construction methods, probably more so than over here. The people were also very friendly and helpful, and when they approached you, all they usually wanted to do was just help you out. Often, this was necessary, as the script and language were totally unintelligible, so you had to rely on helpful Thai. Further, all the stories I had heard about aggressive horny women were all false, and I now presume that they were all told to me by men who 'accidentally' wandered into whorehouses.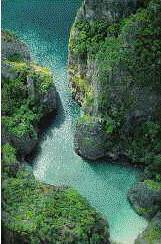 There were many Internet shops all over the town, and the going rate was 5 B per minute. The only problem was that all the communications were radio relayed, so the bandwidth was bad if not terrible, but just to have access on a remote island on the planet's opposite side was a treat. This was especially noticeable as a Canadian phone call cost me 77 B per minute. The calls to Thailand were much cheaper, and I sure did not mind paying for them or a fax to inquire and verify that Asiana staff had found my plane tickets in Seattle, and they were waiting at BKK for pickup.

One day, we rented a long tail boat to travel over to Phi Phi Le to circumnavigate and visit. The long tail boats were wood, and had an external, noisy, small, diesel one-cylinder engine that drove a 3 m long external shaft with a propeller. On the way over we saw a sail fish jumping around. The captain took us to visit the sea cave, and I was astounded how large it was. The whole island was basically huge overhanging cliffs, and the locals scavenged bird nests that make

Chinese bird nest soup, for apparently high prices. It was astounding to see how high and exposed the bamboo scaffolding they made to access the nests were. The island has some neat bays, and was truly a scenic delight.

When I went four days before my BKK plane left to get plane reservations from Phuket to BKK, I could not believe it when there were no seats available, as there were about six flights that were eligible. The next day, the agent did get me a ticket in business class for only 800 B more. So it cost me about 2900 B for the total trip back to BKK from Phi Phi, which was a lot easier than traveling back on the ground. I took the Saturday afternoon ferry to Phuket, and then I got a little Dihatsu taxi truck for 500 B to take time and show me the island on the way to the airport, as I had four hours. Thailand , in general, has good newer roads, and I never saw many potholes. The taxi took me over to Patong, and I was amazed how big and busy it was. I would equate it to a Waikiki beach, without so many high rise hotels, and of course, much cleaner. I would think that it would be a good destination for tourists who were looking for a destination resort with amenities for all, such as golf. The taxi driver then took me up the coast, and after a short rainfall, we arrived at the Phuket airport. As Samui also had a busy airport, and they had frequent turboprop flights, I thought the flights were full because they had small planes. But when I got to the Phuket airport, the planes were 747s leaving faster than once an hour, and they were all full. As that was low season, I sure would not want to travel too much in high season from November to April without reservations. People mentioned that it was a real zoo, and guests even slept in the bar at Charlie. Paying an extra 800 B for business class was a real treat, as I got to sit upstairs in a 747-400, but I could not believe all the kids who were also there. I could not escape them. The plane had mostly Germans, as it was continuing onto Frankfurt.

At BKK, I took the wrong bus to the wrong terminal. so I had to walk the 500 m to the international terminal, where I went to the Asiana office and got my ticket. I must mention that Asiana was an excellent airline with first class service, and beautiful stewardesses, besides being economical. I was really impressed, and I can only wish that they did not depart only from the USA. At 1:40, we departed in a 767, and then flew to Seoul, where we landed at 8:30. I finally figured out the Korean way was to rush the gate, and then take any seat they wanted, as it happened to me two times, before I figured it out. On the other two flights, they were not that full, so it was not a concern. In Seoul, the airline provided all the meals and accommodation for 36 hours before my return flight to Seattle. I could not believe all the construction going on, as there were about four new bridges under construction across the river. Seoul was really spread out, as there were many mountains and hills that separated the various districts. I liked Seoul and I thought it was a very hygienic city. When I walked around on Sunday afternoon, I could not believe all the many thousands and thousands people walking down from the mountains with their hiking garb. After, I saw on the TV news that the fall was a time to visit the mountains and view the coloured leaves. I was the only Caucasian I saw all day, except for one women, but the Koreans seemed to really like Canada. I saw more Canadian shirts, jackets, and hats than I do here, and when I went through Korean Customs, and the officer saw my Canadian passport, he smiled right up and said "ah Canada, very nice country". I guess all our Candu's have done.

At the airport on Monday, I enquired about an upgrade to avoid kids and congestion, but the extra fare was US$600, so I figured, I could suffer for that much. Luckily, even though once again I was by the nursery, the kids were relatively quiet, and the seat next to me was empty. The flight was two hours shorter returning, and after about three beers and four triple Chivas, what amazed me, was that from Seoul, they correctly estimated our landing time within a minute. My guess that US Customs would also harass me was correct as well, and after searching my bag in secondary for a long time, they even took me into a back room for a body search and more questioning. The guy behind me even had his luggage taken off transit to YVR. I can congratulate US Customs for enforcing my resolution to never travel there again, no matter how high their dollar gets. It's an amazing difference that every other county's customs officers were polite and perfunctory, and in Korea, even delighted.
I tried to get an earlier Horizon flight back to Vancouver, and I was almost successful, as I even boarded the earlier plane, but I had to leave it. Once in Vancouver, I zipped through the airport, and out the door to meet the bus, and it must have been friendly Transit bus driver day, as they were the most polite and helpful I have ever seen, and the second one was calling all the stops, usually with joke or song.